An Insightful Comparison of Quicken vs. Mint to Manage Finances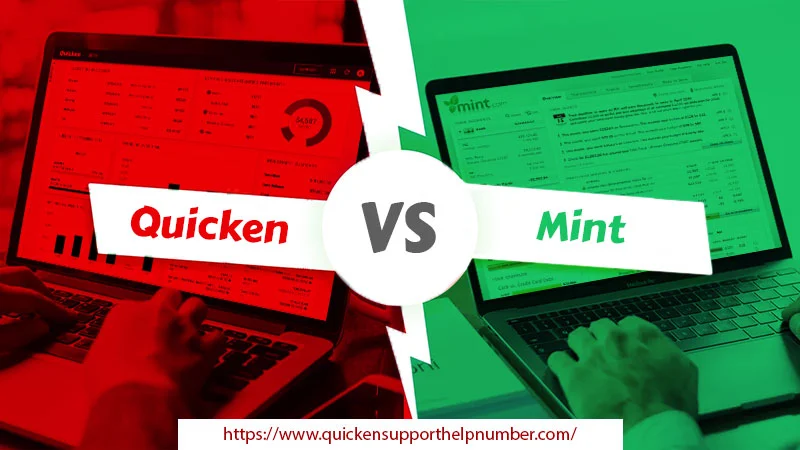 Two of the most influential personal finance tools are Quicken and Mint. These tools help with effective expense tracking, budget management, and investment monitoring. However, people always face a common confusion, i.e., what to choose between Quicken vs. Mint.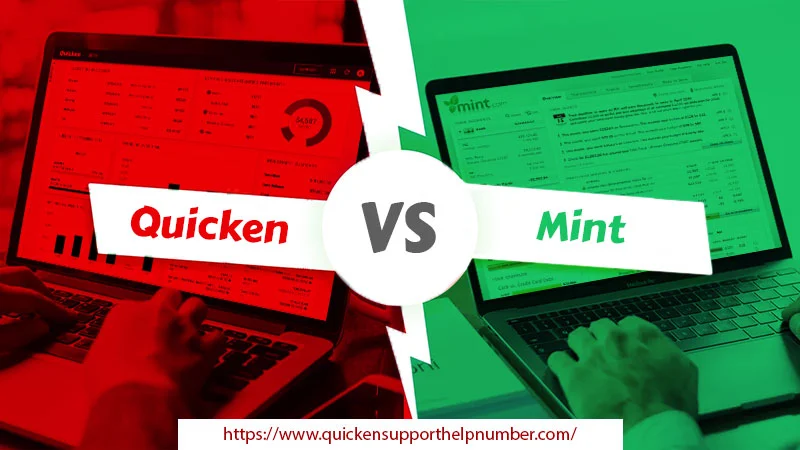 Mint is a cloud-based personal finance management tool, while Quicken is a locally installed, paid personal finance solution. To choose the best one, you need to understand the differences in their features, pricing, and ease of use.
In this article, you will find a detailed comparison of these two tools.
Quicken Vs. Mint – A Comparison of Features
If you are trying to decide between Mint vs Quicken this comparison in features will make your life easier.
1. Budgeting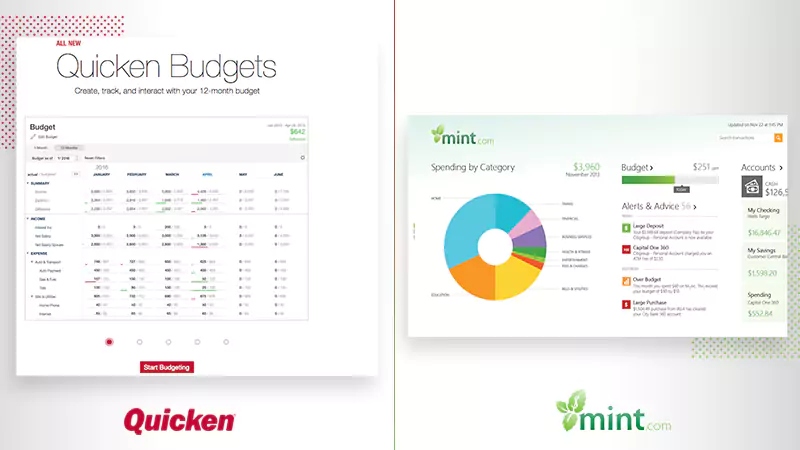 Both Quicken and Mint offer advanced budgeting features. You can know exactly where your money is going and better manage your finances. Set up an organized way to pay off debt, create spending categories, and manually add transactions.
Mint is an entirely online program, so you can access it via your mobile app or website. However, a closer look reveals Quicken to be a more advanced budgeting software than Mint. It offers functionalities like the budget forecast. You can use your predicted income and upcoming bills to protect your bank account balance. Turn on the annual view to get clarity over how much you've spent over the year.
2. Investment Tracking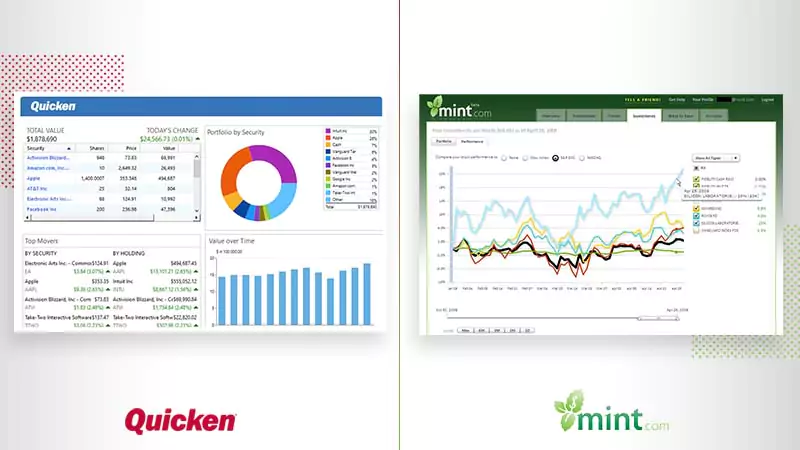 A comparison between Intuit Mint vs. Quicken cannot be made without assessing the investment tracking feature. Both Mint and Quicken let you link your investment accounts, such as retirement accounts, to monitor your balance. Still, investment tracking by Mint is not for active investors. Mint is more of an investment aggregator that combines your accounts to display the overall performance.
On the other hand, Quicken provides some good investment tracking tools in its  Quicken Premier and Quicken Home & Business Plans. You can view your investment fees, set up stock watch lists, and set up and evaluate your portfolio, among others.
3. Syncing between web and mobile app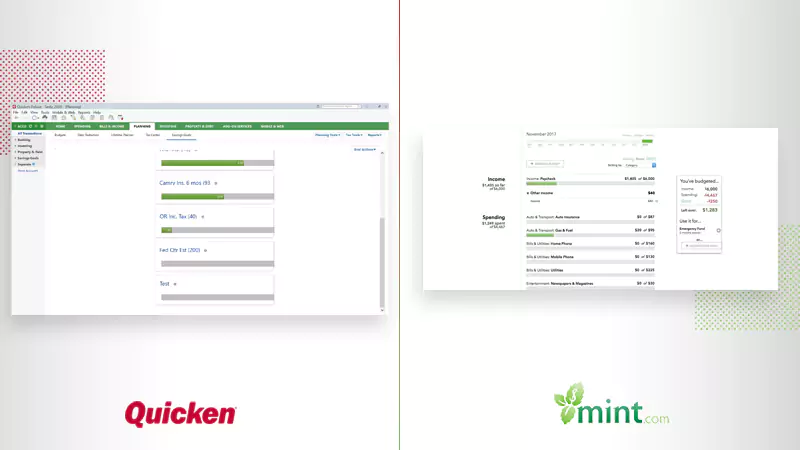 Mint is a cloud-based platform. So, it syncs accounts automatically between the web and mobile app. With Quicken, the Quicken desktop software needs to be installed, and the data is kept on the computer.
However, Quicken Cloud downloads transactions automatically and syncs data across the web and mobile app. Still, we would consider Mint with better syncing and accessibility capabilities.
Synchronization of the bank with financial institutions
Mint supports many banks and financial services. But it has various technical issues with synchronization. Quicken uses Intuit's online services, so it also encounters synchronization issues. You may not be able to use automatic methods to download the information. But you can use the QFX format with Quicken.
You can also manually enter the journal entries, which is not possible with Mint. So, in this comparison between Mint vs. Quicken, Quicken comes out as a winner.
1. Savings goals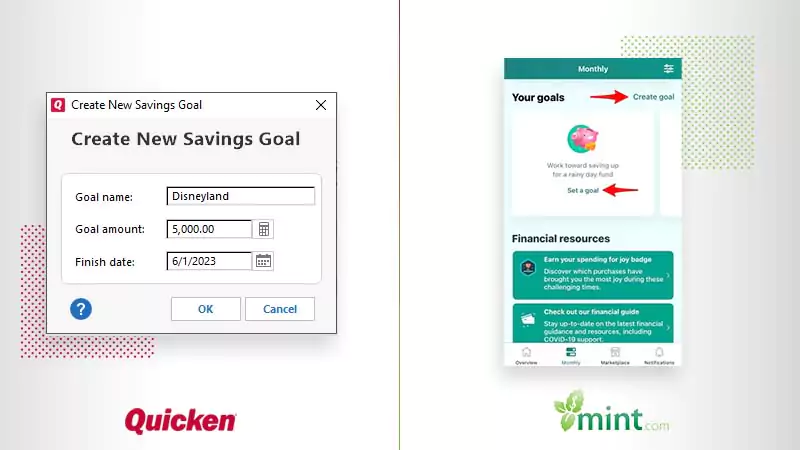 Both Quicken and Mint have the savings goal functionality. This feature computes the amount you need to save and meet your desired objective. Both the software calculates your monthly contribution according to how much you wish to save and by when.
But the difference between Mint vs Quicken lies in the working of this savings goal feature. Through Quicken, you can make any number of savings goals as you'd like. But with Mint, it is only possible to create one savings goal at a time.
2. Debt minimization
Do you struggle with paying your debt? Mint offers debt payoff planning as a component of its goal-setting functionality. Quicken offers a debt reduction planner. This feature allows the viewing of different things affecting the credit. Although you may not get precise results, still, good insights into tackling your debt are possible.
Both the debt payoff and the debt reduction planner automatically detect accounts with debt. They let you know the amount you can afford to pay every month and the time it will take to pay it off. The only difference is that you can add debt manually through Quicken's debt reduction planner.
3. Ease of use
Mint is renowned for its ease of use and how it streamlines the monitoring and tracking of personal finances. Quicken also allows users to track income and expenses and categorize them easily.
But Quicken vs. Mint review of users concerning ease of use shows that Mint is a far better option. This is because it does not have a steep learning curve like Quicken. The features are mostly intuitive, so it is easy for the user to navigate.
4. Security
When comparing Quicken vs Mint with regard to security, it takes work to find a winner. This is due to the fact that both software employs cutting-edge security. However, Mint is an internet-based service, while Quicken is locally installed.
Quicken uses SSL technology, firewall-protected servers, and integrity checks. Mint utilizes two-factor authentication and Touch ID sensors. Between the two, we think that Quicken offers better security measures. 
Management of real estate and small business
Regarding small business management, it is clear to identify the winner between Intuit Mint vs. Quicken. There are hardly any features for real estate and small business handling in Mint.
In contrast, the Home & Business Plan of Quicken available for Windows has various features. It helps in tracking assets and liabilities, separating business and personal transactions, and tracking business deductions, property value, rental income, and rent status. So, it is effective in managing a small business.
Customer support and service
Customer support is present in both Mint and Quicken. Mint's website offers a list of common customer queries for your knowledge. You can also email their support team if there's something you need help with. Quicken also offers good customer support. You can connect with a real person anytime you need help.
The Premier subscribers can also avail of Premium Support services. In simple words, you can seek Mint support from its Online Help Centre and Online Chat. On the other hand, Quicken support includes Phone Support, Online Chat, Online Support Centre, and Community Help.
Quicken Vs Mint – Differences in Pricing
There's a world of difference between the cost of both software. Mint is a completely free financial tool. Quicken, in contrast, has four plans, none of which is free. These include the following.
Quicken Starter – $41.88 per year
Quicken Deluxe – $59.88 per year
Quicken Premier – $83.88 per year
Quicken Home & Business for Windows users – $119.88 per year
Quicken Vs Mint – Distinct Features of Both Tools
Here is a list of features unique to both Quicken and Mint. This will help you gain a better understanding of the software suitable for you.
| | | | |
| --- | --- | --- | --- |
| |            Feature |    Quicken |        Mint |
| 1. | Bank statement reconciliation | Yes | No |
| 2. | The Inspector to see the summary of the budget | Yes | No |
| 3. | Retirement planning | Yes | No |
| 4. | Tax Reporting | Yes | No |
| 5. | Bill Payment | Yes | No |
| 6. | SMS and Email Alerts | No | Yes |
| 7. | Credit Score Tracking | No | Yes |
| 8. | Net Worth Report | No | Yes |
| 9. | Accessibility through Apple watch | No | Yes |
| 10. | Bitcoin Tracking | No | Yes |
Final Verdict – Which is Suitable Between Quicken Vs. Mint
Both Mint and Quicken are good personal financial platforms with various features. However, Quicken has more functionalities and can scale with your small business. It also helps track investments and plan retirement efficiently
Having said that, if you are searching for a simple-to-use, no-frills, free budgeting app, Mint is a good option. It can well compare with the Quicken Starter version.
But for those requiring enhanced portfolio analysis and scheduled D tax reports, Quicken Premier or Quicken Home & Business versions will be great.