Quicken Error CC-889 occurs when your bank no longer supports Express Web Connect. Due to this, you can't update Quicken with the recent bank transactions and other details. After getting Quicken Error CC-889, if you'll not react urgently, you will also start getting Quicken CC-888 errors until your service is discontinued entirely. To fix this issue and to prevent discontinuation of your Quicken services, you need to read this blog and troubleshoot the error today.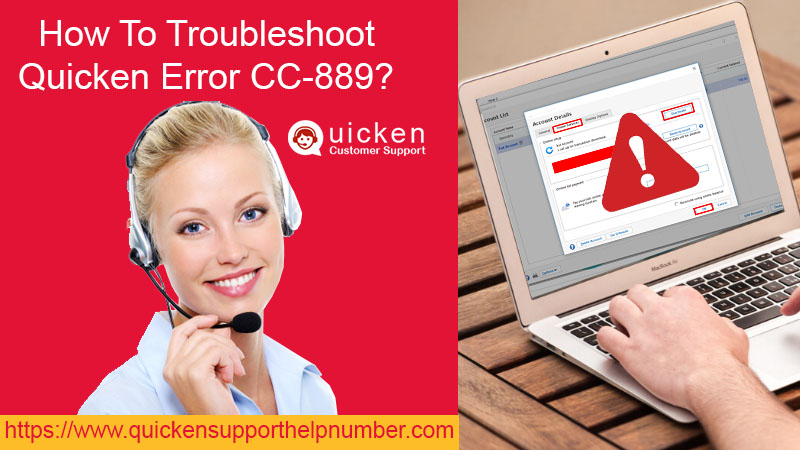 What Does Quicken Error CC-889 Mean?
The simple answer to this question is that your bank or financial institution no more supports the Express Web Connect method. Through Express Web Connect, you can download and access transactions from your bank without actually signing up on the bank portal each time. However, your options are limited here because the method doesn't allow you to make payments or pay bills directly from Quicken.
If your bank has discontinued the Express Web Connect, there's no need to worry. Your bank might have started supporting any other connectivity method like Direct Connect, or Web connect. You can check with your bank what method it is not supporting and reset your bank on Quicken accordingly. However, before you do anything else, you would need to deactivate all your Quicken accounts connected with the bank getting Quicken Error CC-889.
Resolve Quicken Error CC-889 In A Few Steps
As we said above to stop this Quicken Error CC-889, you would need to deactivate your account first and then you can reactivate it with another connectivity method supported with your bank. To know how to do this, follow the steps given below:
Deactivate The Account With Error
Launch Quicken and open Tools.
Select the Account List or press Ctrl + A keys.
Under Online Services, select Deactivate.
To confirm the action, click on Yes.
Now press OK and then Done.
Repeat the same procedure for other accounts that are facing the same error.
Switch Connection From Express Web Connect To Direct Connect
Open Tools and click on the Add Account option.
Select your account type from the given options.
Click on the Advanced Setup option from the bottom of the screen.
Enter your Bank Name and hit Next.
Select Direct Connect as your Connection Method.
Hit Next and keep following the instruction on your screen until the setup is finished.
To ensure if the connection is successfully built, follow the below steps:
Click on Tools and then Account List.
Select Edit next to the account you just set up.
Go to the Online Services tab and confirm that your connection Method is Direct Connect.
Reactivate Your Account With Direct Connect
Under Tools, select Account List.
Select Edit for the account you want to reactivate.
Click on Online Services and then click Set up Now option.
Enter your bank credentials and check the Save This Password option.
Hit Connect to finish the setup.
Once you are done reactivating your account, try performing One Step Update to see if the error does not occur again.
Go to Tools and select a One Step Update.
Select the bank you want to update and enter your password.
Hit Update Now.
That's all. You can now use your Quicken account without any troubles or errors. In case the Quicken error CC-889 continues and you can't resolve it after trying all the tactics, feel free to contact Quicken Customer Support for help. We'll make sure to resolve your issue as soon as possible and won't let you leave disappointed.