Complete Quicken Guide for Windows: The Official Guide, Eighth Edition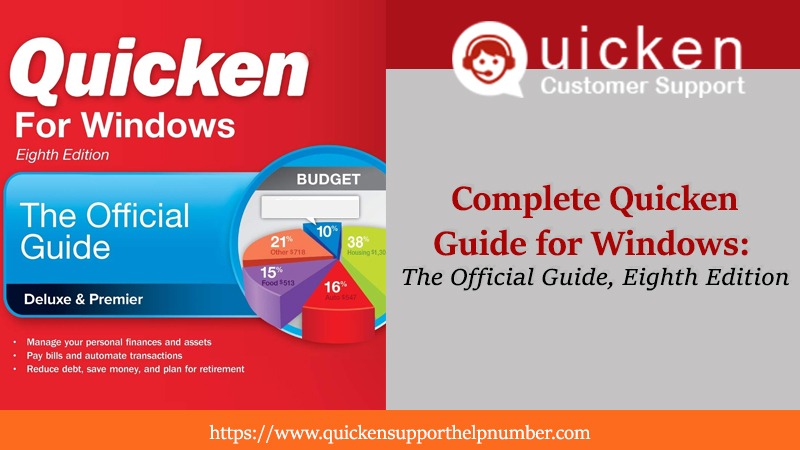 Quicken for Windows users have increased multiple folds and the year 2021 will see lots of new users subscribing to this ultimate personal finance management software. Hence is the need for an accurate and complete Quicken user guide to get the people on board without hiccups.
This article will serve as a DIY guide for new users and a reference point for those who have been using Quicken for quite a long time. So, you fall in whichever category, this article will guide you to a couple of new features that you can use in Quicken to leverage this excellent money management machine. Here we go.
What you'll find in this Quicken user guide?
Here we will make you explore, how to:
Purchase, download, and install Quicken subscription.
Activate the Quicken membership.
Setup the Quicken profile.
Add the first bank account.
Set up the Quicken preferences.
Keep transactions up-to-date by updating the Quicken accounts.
Categorize transactions to track the expenses.
Avoid late payment fees by setting up bills and income reminders.
Create and manage your budget.
Access Quicken from your phone or tab.
Quicken user guide for Windows – Complete steps
Let's have a look at the complete steps to optimize Quicken to the max and make the most of it.
Purchase, download, and install Quicken subscription
Either you can purchase Quicken directly from the www.Quicken.com website or from third-party retailers like Amazon, Best Buy, Staples, etc. There is nothing different in both versions, but when you buy it from retailers, you'll be getting a 16-digit activation code that you will need to enter while activating your product (go to step 2 to activate Quicken).
You have an option to choose from different Quicken for Windows editions like Quicken Starter, Deluxe, Premier, or Home and Business.
Some of the Quicken for Windows editions also come up with 30 days money-back guarantee.
Once you choose the Quicken edition as per your choice, you need to click on the Buy now option.
After that, you will be prompted to either Sign In with an existing Quicken account or create a new Quicken ID.
Now keep following the on-screen instructions to complete the Quicken purchase.
Once done, you will see the 

My Account window

 on your screen with complete details like Quicken information, plan details, and download Quicken section.
Click 

Download for Windows in

 the 

Download Quicken

 section to get the personal finance manager on your device.
Activate your Quicken membership
Like we shared in the previous section, the steps to activate Quicken product varies, depending on whether you bought Quicken from the Quicken.com website or from any third-party retailer. Here we have covered both ways.
Activation steps for Quicken

 

product purchase

d 

from 

Quicken

.com
Remember you have created a Quicken ID in the previous step? That ID is associated with your Quicken subscription membership that you need to use to activate Quicken.
Enter your email or Quicken ID and Password in the sign-in window to activate your Quicken for Windows membership.
Activation steps for Quicken product purchased from a retailer
Simply, navigate to 

www.Quicken.com/download

from on your computer.
Install Quicken on your computer.
Login to the software using your 

Quicken

ID

 (create the one if you don't have it).
Keep following the on-screen instructions and enter your 16 digit activation code.
Now enjoy working with Quicken, set up your profile, add your first account, and set the bills and income reminders.
Setup the Quicken profile
Once you are done with a product purchase, download, and activation, the next step is to set up your personalized Quicken profile. Here you can.
Update your Quickenprofile by filling in your personal details.
Choose whether or not to sync Quicken data with a mobile device or Quicken web application.
Click Use mobile option to sync checking, city savings, credit card, and investments for your mobile access. Give a 

friendly name or

 

description

 to identify this file on your mobile.
If you're not sure to sync Quicken data for mobile access then choose the option Don't use mobile.
Add your first bank account
Launch 

Quicken

on your computer.
Go to 

tools

.
Click 

add an account

.
Enter the name of your financial institution or you can choose your bank name from the list on your screen, click 

next

.
You might be prompted to enter the bank sign-in information.
It will be the same as your online banking login ID and password.
Choose the option to

save this password if

 you want Quicken to remember it for the next time.
Click 

connect

.
You can also add a short name for your account, click next and click 

finish

.
Great you have successfully added your first bank account on Quicken. Now you download the transactions to run reports on your income, expenses, taxes, and investment.
Set up the Quicken preferences
Quicken offers you multiple color schemes or themes to give a superb user experience. You can set up the start-up location, dim the disabled Windows, or link your Quicken data with the cloud, etc. Now you can manage your Quicken as you have never done before.
Keep transactions up-to-date by updating the Quicken accounts
Once you are done with Quicken accounts set up, you can keep your transactions up-to-date. Here you must note that if you have chosen the option Save this password during Quicken account set up, then you will be required to enter the passcode for only your Password vault. Or else, you will need to re-enter the password that you have chosen during the Quicken account setup. To update the transactions, go to tools and then click one-step update.
Also Read: How to Move Quicken to New Computer?   
Categorize transactions to track the expenses
Categorizing the transactions helps you to know where you have been spending your money or which category consumes more money than others. Quicken automatically categorizes the transactions once it gets downloaded from the bank. For instance, if you have spent credit card at Staples, then Quicken will categorize that transaction into Food and Dining: Groceries.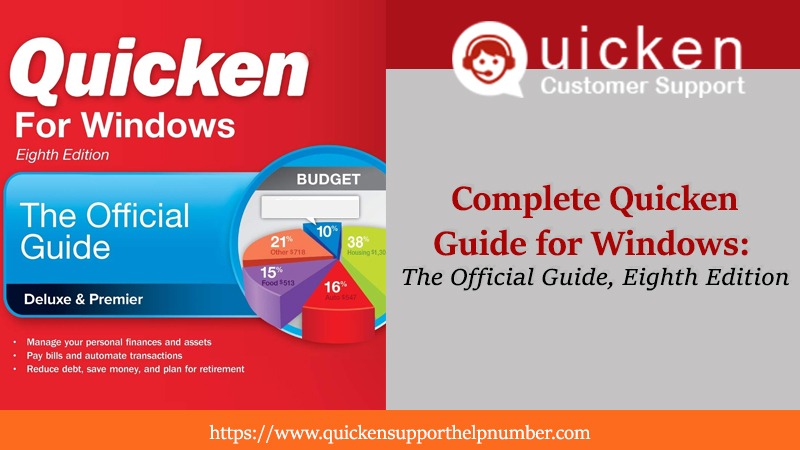 However, in a few cases, Quicken may not accurately recognize the category and in that case, you can manually set up the category for the first time. Here is how you can add or set up a category of your choice. Go to Tools, click Category list and then select Add a category. You can also choose a New Category option on the top right inside to set up an unrecognized category of your choice.
Avoid late payment fees by setting up the bills and income reminders
Besides tracking your income or expenses, Quicken also helps you avoid late payment fees by setting up the bill and income reminders. Follow the below steps.
Go to the 

bills and income

 on Quicken.
Click the 

get started button

.
A new screen will open, click 

online bill

.
Now you may choose the biller or enter the name of your biller that you want to link with Quicken.
After that, you can also choose to get the biller displayed in your register so as to see the impact of biller spendings on your account balance.
Create and manage your budget
If you hadn't missed any point until now in this Quicken user guide, then you would have got to know about the expenses, incomes and got an excellent hold of your finances. The next step comes to align your spending with your incomes. Now that's where the budgeting comes into action. This step will help you limit down the over budgeting problems with your finances. Follow the steps given below to create a personalized budget.
Go to the Home tab on your Quicken.
Click 

Get started in

 the 

Budget 

you

r

 spending

 section.
Enter the 

Budget name under

 the 

Create a new budget

 section and click 

Ok

.
Once done, the home screen will show you the savings left and expenses made until now.
Access Quicken from Your Phone or Web Application
Users can also access Quicken from a mobile app available for Android & iOS. Now you can carry your finance management tool in your pocket. You can also turn on the notifications for your account balances or bill reminders.
Here is How You can Set up Quicken on Your Mobile Phone.
Visit the 

P

lay Store or

 

App Store

 on your mobile.
Search for a Quicken and click the 

install now option

.
Now login to your Quicken application using QuickenID and password.
Once done, your information will be available on your mobile phone.
Follow These Steps to Set Up Quicken on the Web Application.
Visit the website 

app.Quicken.com/login

.
Enter your Quicken ID and password in the field box and click 

enter

.
After that, you can download the bank information and investment accounts.
Additionally, you can also sync Quicken desktop with the Web to update the investment accounts.
Had a Query Regarding Quicken? We Will be Glad to Help
Here we end this write up, hopefully, this Quicken user guide was highly useful in setting up Quicken for the first time or another. This guide will tell you the quick steps whether it's about purchasing a Quicken subscription, downloading Quicken desktop, or setting up your first account. If still, you are facing trouble with Quicken setup, you can straight away drop us a call @ Quicken support number and ask for immediate help. We will be glad to assist you in all ways.